Here's another one of my write-up threads about garments seen worn on the show.
Here's my thread about jeep caps
, and
here's my thread about bath robes
. This thread is dedicated to reviewing and discussing another piece of garment worn by our favorite army docs that I hold favor with, the Highneck Sweater.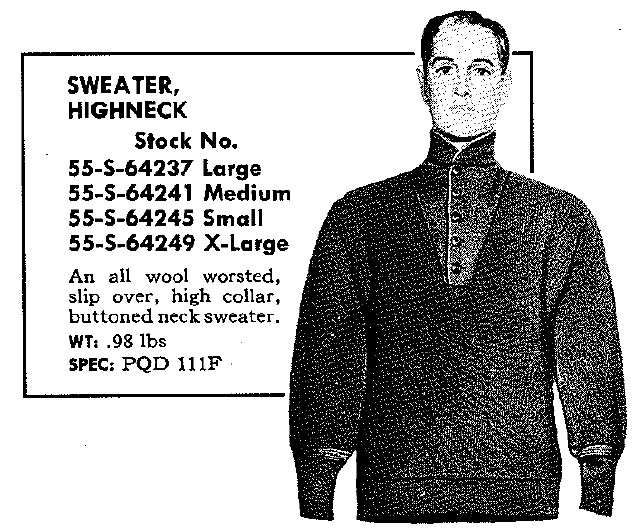 The highneck sweater, like the jeep cap, actually originated in WW2, however, whereas the jeep cap was originally standard-issued headgear before field caps were introduced, the highneck sweater didn't start seeing production until very late in the war - that may or may not explain why in many of the WW2 shows and movies I've seen, I rarely see any soldiers or troops wearing these. They continued to see use during the Korean War, however.
Considering that our troops had to face hardships such as bitter cold conditions during both WW2 and the Korean War, the highneck sweater was designed and produced with a few specific details in mind, perhaps most notable is its collar and yoke area: because the sweater was pretty much intended to be worn as a layering garment under jackets, parkas, and overcoats, the yoke was designed specifically to keep the neck and chest extra warm when soldiers kept their coats slightly unbuttoned, as Potter usually wore in winter episodes. The collar itself served a similar purpose as the earmuffs on the jeep cap, you could fold it down when not needed, or flip it up for extra warmth around your neck. The knitting of the sweater itself was done in a cardigan style; this was to allow a soldier's body temperature to adjust according to his environment - the sweater would keep him warm in the frigid outdoors, but allow him to stay comfortable in warmer indoors. The cuffs and the waistband were also given a slightly tighter knitting to keep the sweater from riding up when worn, however, the sweater in general is pretty form fitting: not too tight, but not too loose.
The sweater has made rounds throughout the 4077th during cold snaps. Our first glimpse was Frank in "Dear Dad", whom I believe wore a size or two too small (probably so Margaret would be in awe of his girly physice):
Radar wore a distressed-looking one in "Dear Dad... Again"
A few characters were seen in these in "Out of Sight, Out of Mind", such as Bigelow in her first appearance:
Margaret, who constrasting from Frank, seemed to wear a size or two too large:
And Hawkeye:
"Dear Sigmund", being one of those cold-snap episodes that the writers wrote intentionally because the actors got too nit-picky, is another example of highneck sweaters abound. Both Hawk and Beej sport one:
Frank again:
And Potter:
I managed to find a well-made reproduction of the highneck sweater at a very reasonable price from a company in Kentucky called At the Front: their sweaters are imported and sold for $75 - a very good deal, when you consider other repros that are U.S.-made are usually sold for about $150! I basically got a sturdier import (as it's a blend, rather than all wool like the originals) for half the price, and I love it. Then again, I'm like Bill Cosby, I just like sweaters . . . it's just a shame that where I live, sweater weather barely lasts three months, so I have to enjoy it while I can. Even though common trend was to wear the sweater as a layer under coats, I tend to wear it as pull-over so it can actually be seen. Not surprisingly, it looks really snappy when worn with a jeep cap.
You have to admit, there are
some
pieces of uniforms or accessories that the army created that actually do look good in civilian life.